Megan Mullally Itinerary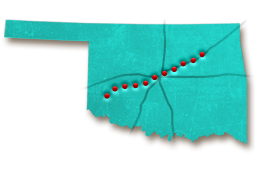 Photo Gallery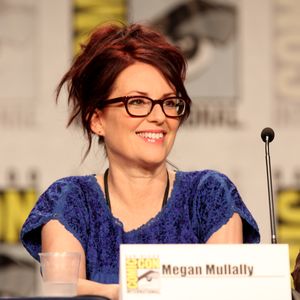 ---
{{ data.name }} Edition
---
Megan Mullally
Born: 11-12-1958
Megan Mullally was born in Los Angeles, but her parents soon relocated to Oklahoma City where the future actor, performer and musician spent her formative years. While Mullaly's talents have taken her around the globe since breaking onto the national scene in the late 1980s, she has remained connected to her home city throughout her varied and distinguished career.
Oklahoma City left a mark on Mullally, who frequently returns to perform and give talks at local venues like the Lyric Theatre of Oklahoma—where she got her start as a young performer—and events like the annual deadCENTER Film Festival. "I love Oklahoma City," Mullally told the Oklahoma Gazette in 2016. "I was raised there. I love going back to visit."
Mullally is best known for her watershed role as Nance on the groundbreaking sitcom, Will & Grace, but the longtime Oklahoma resident also played memorable guest roles on other hit 1990s shows like Seinfeld, Frasier, Wings, Just Shoot Me!, Mad About You and more. Her success on the small screen has continued unabated throughout the 21st century, most notably with her role as Tammy—the hilariously maniacal ex-wife of a character played by Mullally's real-life husband, Nick Offerman—on NBC's Parks & Recreation.
"When I was growing up in Oklahoma City, my father used to watch Laurel and Hardy a lot and laughed really hard. I don't know if I ever really got it, but I was fascinated by them and their dynamic."
A creative child with a penchant for dance, Mullally began studying ballet at the age of six. She performed with the Oklahoma City Ballet during her teenage years at Casady School before going on to the School of American Ballet in New York City. While developing her talents in high school, Mullally attended the first annual Oklahoma Summer Arts Institute (OSAI)—a distinguished multi-disciplinary arts academy for gifted high school students. She studied OSAI's short-lived miming discipline in 1977, a year before Institute moved from outside Tahlequah to its permanent location at the Quartz Mountain Resort, Arts & Conference Center in southwestern Oklahoma.
While Mullally's acting work may be her most visible cultural contribution, she has also built a name for herself as a musician and performer. Mullally is a founding member of the band Supreme Music Program, which focused on eclectic renditions of classic songs by Paul McCartney, Randy Newman, Tom Waits and more. The band released their debut album, The Sweetheart Break-In, in 1999. Supreme Music Program would go on to release two more albums, Big as a Berry and Free Again!, before going on hiatus in 2007.
The end of Supreme Music Program didn't signal the end of Mullally's musical ambitions. In 2012, she formed the lighthearted folk duo, Nancy & Beth, with creative partner Stephanie Hunt. The two went on tour the following year with Nick Offerman, where Mullally and Hunt began refining their act. Much of the energy of Nancy & Beth's celebrated live performances comes from the theatrical rapport between Mullally and Hunt who—despite being 30 years apart in age—share an undeniable chemistry that harkens back to the early days of Hollywood.
"I like the term 'buddy act,' because it is a buddy act," Mullally told Rolling Stone in 2018. "When I was growing up in Oklahoma City, my father used to watch Laurel and Hardy a lot and laughed really hard. I don't know if I ever really got it, but I was fascinated by them and their dynamic."
Mullally and Hunt released their self-titled debut as Nancy & Beth in 2017, featuring fresh takes of classic songs like George Jones' "He Stopped Loving Her Today" and a bluesy rendition of Wynona Carr's "Please Mr. Jailer." With a live show marked by delightful choreography and witty banter, Nancy & Beth has quickly become Mullally's most commercially and critically successful musical act to date, earning praise from high-profile media outlets like NPR and Rolling Stone.
Mullally's distinguished career has been marked by variety, but the connection to her hometown of Oklahoma City is one thing that hasn't changed. Throughout her many creative twists and turns—from charming international audiences on the small screen to delighting music lovers in concert halls across the globe—Megan Mullally has remained tethered to the place where she developed her considerable talents and became the freewheeling artist audiences know and love.