Wayman Tisdale Itinerary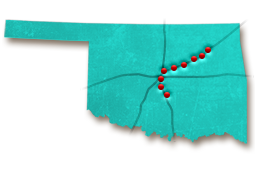 Photo Gallery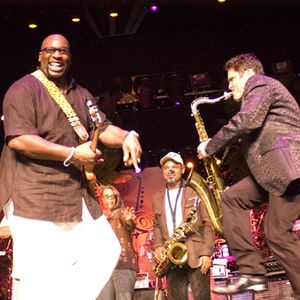 ---
{{ data.name }} Edition
---
Wayman Tisdale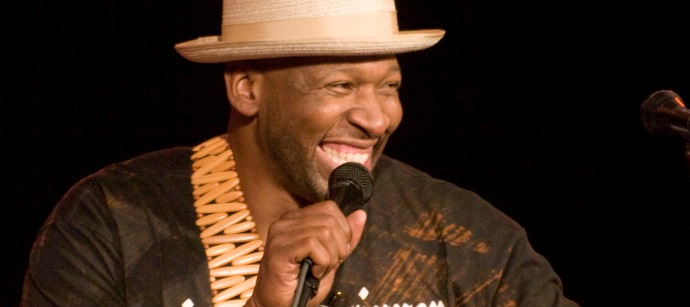 Born: 06-09-1964
Died: 05-14-2009
Tulsa-bred Wayman Tisdale is perhaps most well-known as a pro basketball player for the NBA, notable for averaging 15 points and six rebounds a game over 12 years with the Indiana Pacers, Sacramento Kings and Phoenix Suns. However, the 6'9" star, famous for his infectious smile and positive attitude, also made his mark in the world of contemporary jazz, releasing a total of eight albums during his lifetime. Songs like "Ain't No Stopping Us Now,""Can't Hide Love," and "Don't Take Your Love Away," were all top radio hits, solidifying Tisdale as one of the brightest jazz bass guitarists of his era.
Wayman Tisdale was born on June 9, 1964, to parents Louis and Deborah Tisdale. While growing up in Tulsa as the youngest of six children, Wayman was encouraged to explore his musical talents by his father, the late Rev. Louis Tisdale. In fact, Wayman's father, who served as pastor of Tulsa's Friendship Baptist Church for over 20 years, introduced his children to the church choir and even bought each of his three sons a Mickey Mouse guitar to practice their budding musical talents. While Wayman's brothers were more interested in using the guitars as paddles and baseball bats, Wayman slowly started teaching himself to play guitar and bass.
Despite his passion for bass guitar, a 24-inch growth spurt during Wayman's junior high school years put him on the path to future basketball fame.
He studied the bass players in the church band, watching how their fingers moved as they played. While Wayman Tisdale never took formal music lessons or learned to read sheet music, his natural talent quickly became apparent and he eventually joined the church band, merging his sound with the bass players that he referred to as "the coolest cats." Despite his passion for bass guitar, a 24-inch growth spurt during Wayman's junior high school years at Tulsa's George Washington Carver Middle School put him on the path to future basketball fame. He dunked his first basketball in the eighth grade and carried his success to Booker T. Washington High School, where he became a star basketball player. After graduating in 1982 and wading through hundreds of college scholarship offers, Wayman chose to stay close to home, attending the University of Oklahoma in Norman.
While playing for the Oklahoma Sooners, Wayman made a name for himself as one of the country's best power forwards and became a three-time All-American, averaging more than 24 points per game with his left-handed jump shot. Even Michael Jordan claimed that Wayman Tisdale was one of the greatest college ball players of all time. "Wayman's one of the biggest reasons why I chose Oklahoma," said Stacey King, Tisdale's Oklahoma teammate and a former Chicago Bulls player. "I wanted to be part of something special, and it made logical sense to go to OU, because I wanted to pattern my game after him."
Wayman spent three years playing for the Sooners at the Lloyd Noble Center and went on to play for the U.S. Olympic basketball team in 1984, which earned him a gold medal. Afterward, he left college a year early to enter the 1985 NBA draft, where he was the No. 2 draft pick. During his 12 seasons in the NBA, Wayman's love of music never waned. "The guys, especially Charles Barkley, used to tease me on the bus when they'd see me with my bass," Tisdale once told Billboard.
During this time, Wayman began writing and producing, namely the song "Payday," for The Winans featuring R. Kelly, as well as numerous songs for SWV's first album, which went on to sell over three million copies. The basketball star continued to practice bass and develop his sound, which was greatly influenced by renowned bassist Stanley Clarke. Wayman became known for playing the bass upside down and often used his bass guitar as a melodic lead instrument while inviting other musicians to play the rhythm. While honing his talent on bass, the basketball star began envisioning a future in the music industry.
Before retiring from the NBA, Wayman created a demo of seven songs, which landed him a recording contract with Motown's MoJazz label. In 1995, Wayman's debut album, Power Forward, climbed up the Billboard contemporary jazz chart before landing at No. 4 and even crossing over to the R&B charts. When interviewed about his cross-over style by The Philadelphia Tribune, Wayman explained, "I feel that jazz is in me, R&B is in me, gospel is in me, and you hear a lot of that in my music. Just to be classified as a jazz bassist is limiting to me." In 1996, he followed up the success of Power Forward with his second album, In the Zone, with his band The Fifth Quarter.
After Wayman's father died in 1997, he decided to leave the NBA and focus on his music career fulltime. "The music side is more gratifying because it was my first love, but I loved the fact that when I was in the NBA I loved that and I had a great time doing that, and when I had to leave I love the fact that I had music to look up to," Wayman said in a Smooth Jazz Notes interview. "I can't say I love one more that the other. I'm thankful I can do both of them, so I'm living a dream."
"I feel that jazz is in me, R&B is in me, gospel is in me, and you hear a lot of that in my music."
Coincidentally, Wayman Tisdale's NBA retirement came on the same day that his third studio album, Decisions, was released. In 2001, Wayman's fourth album, Face to Face reached No. 1 on the Billboard contemporary jazz chart, followed in 2003 with the gospel album Presents 21 Days and 2004's Hang Time. In 2002, Wayman was awarded Bassist of the Year during the National Smooth Jazz Awards.
Wayman's seventh record, Way Up!, was well received and featured such renowned artists as two-time Grammy Award-winning jazz keyboardist Bob James, saxophonist Dave Koz and jazz great George Duke. A review on allaboutjazz.com stated that, "Early on, it was legitimate to wonder if Wayman Tisdale wasn't just a basketball player dabbling with playing jazz bass. Way Up! removes all doubt and establishes Tisdale as a seasoned pro in his own right and one of the brightest talents in music today."
In early 2007, Wayman broke his leg during a fall going down the stairs in his Los Angeles home. During treatment, doctors diagnosed Wayman with metastatic bone cancer. After the diagnosis, Wayman returned to his hometown of Tulsa, where he began chemotherapy. The former basketball great also endured an operation on his knee joint, which put his leg in a cast for four months. Always the optimist, Wayman used a cane and continued to tour, showing off his unique, left-handed playing style to crowds of jazz fans.
During 2008, Tisdale was well enough to release his eighth album, Rebound, which featured a version of Barry White's popular hit "Never, Never Gonna Give Ya Up" with fellow Oklahoman Toby Keith on vocals. Later that year, part of Tisdale's right leg was removed.
On May 14, 2009, Wayman Tisdale succumbed to bone cancer at the St. John Medical Center in Tulsa. His death came as a shock to those close to him, since he was preparing to return to the recording studio the following week to work on a project with jazz guitarist Norman Brown. After Wayman's unfortunate death, a public viewing for family and friends was held at a standing room-only celebration of his life at the Friendship Missionary Baptist Church in Tulsa. Later that week, a public service was held at Tulsa's BOK Center. A horse-drawn carriage carried Tisdale's body from the funeral home to the service, starting at Peoria Avenue, heading west on Pine Street and then south on Denver Avenue. Over 4,000 people attended the service at the BOK Center. That evening, a benefit concert was held at the renowned Oklahoma Jazz Hall of Fame in his honor. Wayman was laid to rest at Memorial Park Cemetery in Tulsa.
Wayman Tisdale's memory lives on in many forms: in his longtime wife Regina and their four children, the OU community that rooted for him as an Oklahoma Sooner superstar, his loyal NBA fans and, of course, the many people who were touched by the greatness of his musical talents. Wayman was posthumously inducted into the Oklahoma Jazz Hall of Fame in 2009 and the Oklahoma Music Hall of Fame in 2011. He was also previously inducted into the Oklahoma Sports Hall of Fame in 2002.
"I don't know of any athlete at Oklahoma or any place else who was more loved by the fans who knew him than Wayman Tisdale," said Billy Tubbs, who coached Tisdale with the Sooners. "He was obviously, a great, great player, but Wayman as a person overshadowed that. He just lit up a room and was so positive."
In 2011, writer and director Brian W. Schodorf released the 66-minute documentary The Wayman Tisdale Story, which celebrates the life and legacy of Wayman Tisdale, from his All-American days at OU to his rise as a world renowned jazz musician. The film was shown in several cities, including at Tisdale's former Tulsa high school and OU's Lloyd Noble Center.