Gene Autry Itinerary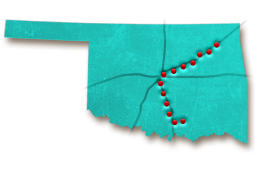 Photo Gallery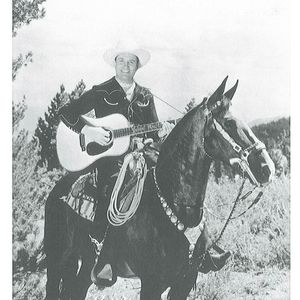 Discography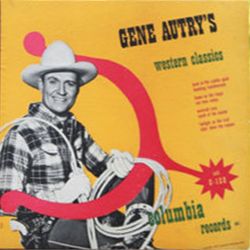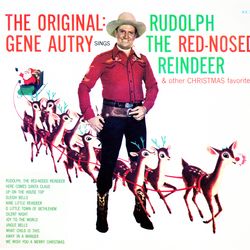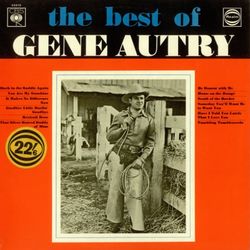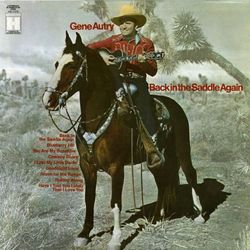 ---
{{ data.name }} Edition
---
Gene Autry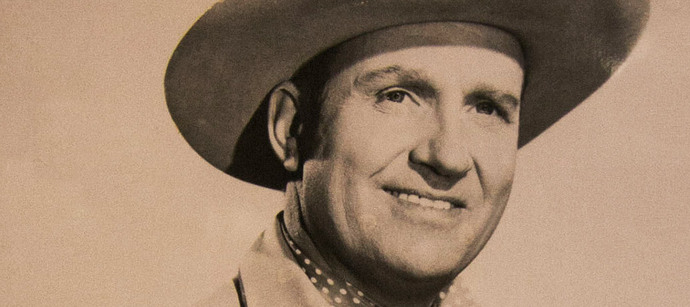 Born: 09-29-1907
Died: 10-02-1998
Considered one of the most popular Western film actors and singing cowboys on the silver screen, Gene Autry was born to Delbert and Elnora Ozmont Autry on September 29, 1907 near Tioga, Texas. After his mother tragically died when Gene was only four years old, the family moved to Achille, Oklahoma before homesteading near Ravia, located just west of present-day Tishomingo. There, the young Gene Autry began singing in church and later learned to play the guitar after buying one from Sears and Roebuck for eight dollars.
As a teenager, Gene worked at the local St. Louis & San Francisco Railway depot as a baggage handler, where he began lessons in telegraphy. After learning the trade, he began filling in for telegraphers along the railway line. According to legend, humorist Will Rogers, looking to dispatch his daily syndicated column, walked into the telegrapher's office in Chelsea, Oklahoma in 1926 and found Gene inside singing and playing his guitar. Impressed, Rogers told Autry that he had enough talent to get a job on the radio and encouraged the young performer to go after his dreams. Soon after that fateful meeting, Gene quit his job and moved to New York in 1927 to "make a record."
Gene Autry eventually landed in Tulsa, where he secured a gig as "Oklahoma's Yodeling Cowboy" on KVOO in Tulsa, a job that helped him earn a huge following, as well as a recording contract with Columbia Records in 1929. Autry's first breakout hit, "That Silver-Haired Daddy of Mine," in 1932, helped him land a spot on the National Barn Dance, a popular, nationwide radio show recorded in Chicago.
After marrying his wife, Ina Mae Spivey from Duncan, Oklahoma, the Autrys moved west in hopes of conquering Hollywood. In 1935, Gene made his major film debut in The Phantom Empire, a Republic Pictures production. That same year, Gene created the musical Western genre when he starred in Tumbling Tumbleweeds, a movie plotted around his ability to sing. Autry's other films during that period included The Singing Cowboy (1937), Rhythm of the Saddle (1938) and Sioux City Sue (1942). Autry would go on to become the most famous singing cowboys of the era, starring in 93 movies, most of them musical Westerns.
Soon after the country star moved to Berwyn, the berg officially petitioned to have its name changed to none other than – Gene Autry.
Some of Gene's best-known movies also are based on his hit musical records including South of the Border (1939), Mexicali Rose (1939), Back in the Saddle (1941), The Last Round-Up (1947) and Strawberry Roan (1948). In 1940, during Autry's heyday on screen, theater exhibitors of America voted Gene Autry the fourth biggest box office attraction behind Mickey Rooney, Clark Gable and Spencer Tracy.
During this period, in 1938, Gene Autry began the Flying A Rodeo, a traveling Western show and rodeo that toured nationwide. In 1941, Autry purchased the Flying A Ranch for his rodeo stock of horses, bulls and calves near Berwyn, Oklahoma, a small town located on the southern slopes of the Arbuckle Mountains. Soon after the country star moved to Berwyn, the berg officially petitioned to have its name changed to none other than – Gene Autry.
The eligible voters of the community overwhelmingly approved the idea and the name change occurred on Sunday, November 16, 1941, with Gene in attendance at the naming festivities. The small town of 200 residents welcomed 35,000 visitors on that day, causing the planned parade to be canceled due to the mass of people crowding the streets. To cap off the celebration, Autry broadcast his popular Melody Ranch Radio Show from the town named in his honor. Today, Gene Autry fans can still visit the town to to see personal and professional artifacts at the Gene Autry Museum. Gene sincerely hoped that Berwyn, now known as Gene Autry, would become the cowboy movie capital of America, seeing as it had the perfect backdrop of trees, mountains and creeks for Western movies. This did not come to pass, however, when only 21 days later Pearl Harbor was bombed, WWII began and Gene Autry enlisted in the United States military.
After an honorable discharge from the Army Air Corps, Autry landed a weekly television show in Hollywood, becoming one of the first major film stars to enter the emerging medium of television with the debut of The Gene Autry Show on CBS in 1950. He produced 91 half-hour episodes of The Gene Autry Show and went on to produce such popular television series as Annie Oakley, The Range Rider, Buffalo Bill Jr., The Adventures of Champion and the first 39 episodes of Death Valley Days.
"I would like to be remembered as a friend to all the people and to my fans," Autry once said.
Gene Autry, through a multi-faceted career spanning more than 50 years in entertainment, won two Grammy Hall of Fame awards and five stars on the Hollywood Walk of Fame (one each for radio, music, film, television and live theatrical performances), as well as induction into the Country Music Hall of Fame. In total, Autry completed 93 movies, starred in 91 television productions and wrote hundreds of songs including well-known hits "Tumbling Tumbleweeds," "Here Comes Santa Claus," "You Are My Sunshine," "Frosty the Snowman" and "Back in the Saddle Again."
Autry is the first artist in history to have a gold record, the first artist ever to sell one million copies of a record with his single "That Silver-Haired Daddy of Mine," and the first artist ever to sell out New York's Madison Square Garden. Gene's beloved "Rudolph the Red-Nosed Reindeer" is the second highest selling Christmas song of all time, having sold more than 30 million copies.
"I would like to be remembered as a friend to all the people and to my fans," Autry once said. "I have fans that stayed with me all these 50 years or more, and believe me without fans you have a tough road to hoe. And I just want them to always remember Gene Autry as a nice man and a man that did his best, whatever he was doing. Whether it was making records on the stage or making movies."