Jana Jae Itinerary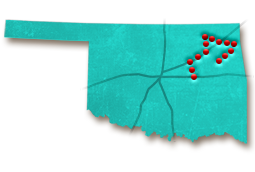 Photo Gallery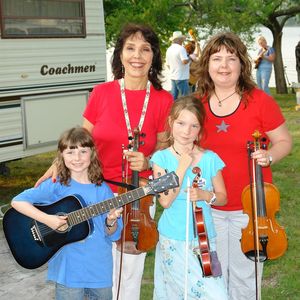 Discography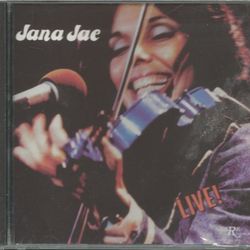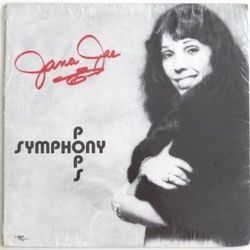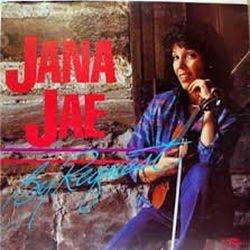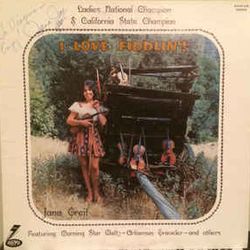 ---
{{ data.name }} Edition
---
Jana Jae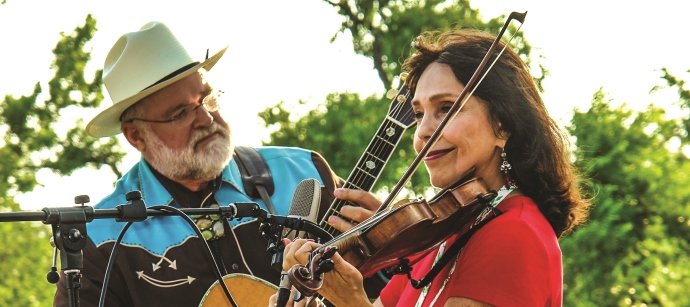 Born: 08-30-1943
Like a Stradivarius violin, the life of Jana Jae has been one of craftsmanship, hard work, training, trial and triumph. All these unique and profound qualities have come together to score the life symphony of the Queen of Country Fiddle.
Born of classically trained violinists, Joe and Bette Hopper, Jana Jae picked up a 1/8th size violin at the tender age of two. While her parents were instilling proper technique and form in the young prodigy, her maternal grandfather, a champion country fiddler in his own right, began teaching Jana the fundamentals of playing by ear by her fourth birthday.
While many young musicians choose one path or the other, Jae opted to embrace both, following a hard earned classical path; scholarships to Interlochen and the International String Congress, graduating Magna Cum Laude from Colorado Women's College (now Denver University) then studying abroad at the Vienna Academy of Music in Austria. Regardless of the time and energy spent developing her violin skills, Jae devoted equal time 'fiddling around' with ear training, jamming and learning traditional and Bluegrass music. With a fearless attitude for exploration, Jae's musical world has never really been defined as violin over fiddle, simply Jana pouring her heart into the instrument, creating beautiful music from the depths of her soul.
Jae becoming a Buckaroo was not only a first, but also a tremendous recognition of the fact that she was an equal to any player in one of the hottest bands in country music.
Although she was born in Great Falls, Montana, Jana has strong ties to Oklahoma. As a young girl, her family spent several vacations hanging out with family friends near Big Cabin and Vinita, enjoying what is now the Honey Creek Area at Grand Lake State Park. As a teenager, Jae also spent time away from the International String Congress hanging out with colleague and friend Kay Hayes at the Hayes' family home in Tulsa. Like scores of other young musicians, the teenagers whiled away many an afternoon, jamming at the local music shop where Kay's dad worked, Saied's Music Company.
After her studies abroad, Jae settled down, briefly marrying in 1967, having two children and then divorcing by 1970. The young mother and violinist taught music for a few years, growing a string program from four students to 250 over the space of just a few years. While she was by all rights a fantastically successful teacher, Jae couldn't ignore the gypsy's call and went on the road with progressive bluegrass band Clear Creek. During this time she also took back to back National Fiddle Championships at Weiser (the granddaddy of old time fiddling competition) in 1973 and 1974. While on tour with Clear Creek, Bakersfield country legend Buck Owens heard Jana's scorching rendition of bluegrass standard Orange Blossom Special. Buck was so impressed he tapped her to fill a spot in his legendary band the Buckaroos.
Developed by the likes of Buck Owens, Wynn Stewart, Merle Haggard and Oklahoma's own Tommy Collins, the Bakersfield country sound was a reaction to the slickly produced, orchestral country music churning out of Nashville in the late 1950s. Distilled in southern California honky tonks from a heavy dose of Bob Wills' swing and the blues of Jimmie Rodgers, what came to be known as the Bakersfield Sound sprang up when hard luck Dust Bowl migrants, mostly from Oklahoma, Texas and Missouri, borrowed a backbeat from rock and plugged in their guitars (primarily Fender Telecasters). The lean and mean sound these ground breaking musicians crafted helped lay the foundation for several country subgenres, including Outlaw, Alt and even Red Dirt Country.
It might be difficult for modern audiences to grasp the significance of Buck Owens inviting Jana Jae to play in his band. While back-up female vocalists were fairly standard in the world of 1970s country music, the old phrase "boys in the band" was quite literal—ladies did not play in the band. Jae becoming a Buckaroo was not only a first, but also a tremendous recognition of the fact that she was an equal to any player in one of the hottest bands in country music.
As a Buckaroo, Jana was part of the house band for the wildly successful television program Hee Haw. Up until Hee Haw, Jae's performance instrument had been a beloved 18th century acoustic violin built in Milan, Italy. Feeling that she needed an instrument more befitting the show's image, producers at Hee Haw approached Jae about using a blue electric fiddle for her program appearances. Although originally apprehensive, her reluctance subsided when the fan mail started piling up, much of it simply addressed to "The Girl with the Blue Fiddle." Just like the Buckaroo's signature red, white and blue guitars, that blue fiddle became synonymous with Jana's style and she still brings it out for country numbers at her shows.
While her career was flying high during these years, Jae went through several personal storms, including a very public marriage and almost instant divorce to Buck Owens in 1977. In 1979, Jae struck out on her own, putting together a touring band called Hotwire. In addition to performing and touring with Hotwire, Jae became a highly sought after guest musician for both the road and in-studio, playing with notable country artists like Bobby Bare, Mel Tillis, Ricky Skaggs, Chet Atkins, Asleep at the Wheel, Roy Clark, The Oakridge Boys and the Nitty Gritty Dirt Band. Jae was always transcending the boundaries of genre and style, playing at events like the Montreux Jazz Festival, Wembley Fest and New Orleans Jazz Fest as well as soloing for many orchestral symphonies including the Tulsa Philharmonic, Midland-Odessa, Houston Pops and Sacramento Symphony.
At the urging of her booking agent Jim Halsey, Jae finally left California and resettled in Tulsa, taking advantage of Oklahoma's central geography for touring and helping out with a regular spot on the Tulsa Opry stage. A few years after settling in, Jae found and fell in love with a property near Grove, feeling an instant connection with the place. It wasn't until a later conversation with her mother that she learned her new home was close to where her grandparents had courted years before her birth.
Continuing to perform internationally with a storied musical career, Jae returned to her roots in Grove and has once again slipped into the role of mentor and teacher. The renowned fiddler now works closely with Grand Lake Festivals, Inc., putting on three annual musical events each summer, the American Heritage Music Festival, Cajun Festival and the Jana Jae Fiddle Camp. These traditional music events help encourage players of all ages and skill levels by keeping alive the fiddling contest, an American tradition that was so pivotal in the Queen's own musical journey.