Photo Gallery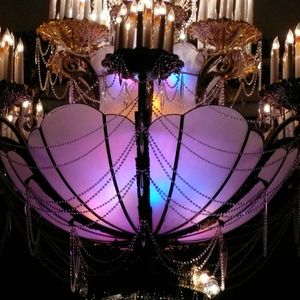 ---
{{ data.name }} Edition
---
Coleman Theatre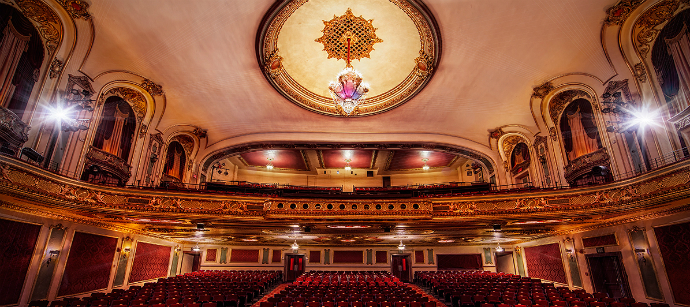 Opened: 04-18-1929
The elaborate Coleman Theatre popped up on Main Street Miami in a matter of 330 days, thanks to Miami native George L. Coleman. A man of many talents and vast wealth, Coleman made his money through his lead and zinc mining company in Miami while traveling between his California and Florida homes.
During his time on the coasts, Coleman fell in love with Vaudeville and decided to bring this form of live entertainment home to his employees in Miami. The Vaudeville circuit planned to make its way through Miami within the year, so after telling Coleman his Glory B Theater in Miami was too small to accommodate their show, Coleman set his plan for his theater into action. When the Coleman Theatre opened its doors on April 18, 1929, all 1,600 seats were filled. A $1.00 ticket granted guests the chance to see the show, but also explore the theatre and its ornate decorative elements.
Coleman spared no cost with the architectural features of his theater. The exterior contained Spanish Revival-style elements like stucco and twin bell towers, and the interior housed lavish Louis XV-style pieces, from a mahogany staircase leading to the balcony to the faux-box seats hiding organ pipes. Terra cotta gargoyles greeted guests, Belgian velvet curtains closed between acts and stunning stained glass panels made for a truly sophisticated setting.
The Coleman Theatre hosted an ever-transitioning variety of acts over the decades, moving from Vaudeville and talkies to orchestras and silent films. During the peak of its early days, Coleman Theatre played host to many well-known entertainers, including dancer Sally Rand, Bob Hope, the Three Stooges and Will Rogers. Silent movie star Tom Mix brought his wonder horse Tony to this Route 66 venue, Harry Blackstone wowed the crowd with his magic tricks and Cary Grant promoted his movie to the Miami audience members.
"I consider this to be the jewel of Oklahoma," Jerold Graham said. "There are not many of these historic theaters left."
Throughout the years, the Coleman Theatre fell into a state of disrepair, yet it never once shut its doors. Despite mold, mildew and holes in the roof, Coleman Theatre continued showing movies after live entertainment stalled. Guests got creative on rainy days, strategically choosing seats underneath the balcony to keep dry. Coleman Theatre earned its spot on the National Register of Historic Places in 1983 and continued offering building tours in spite of the overall damage.
In 1989, the City of Miami officially acquired the Coleman Theatre and jumpstarted its renovation process. In the midst of reconstruction, city officials, volunteers and residents banded together to restore this grand theater to its original glory.
Over time, the Coleman Theatre is looking very much like its old self. Local businesses have donated supplies, and volunteers have logged thousands of hours to bring this local landmark back to its potential.
"A guy came in one day and said, 'I'm bored, give me something to do,'" Coleman Curator Jerold Graham said in an interview with The Oklahoman. "He did 200 hours of sheet rock work."
Miami residents' personal memories about the theater included marriage proposals, first date experiences, backstage secrets and production anecdotes. The Coleman Theatre has played such a crucial role in Miami residents' and visitors' lives, something they hope to pass on to future generations.
"Our motto is, and this is very important, that we don't own anything," Coleman Theatre Executive Director Barbara Smith said in a Macon State College documentary. "We hold it in trust for the next generation."
While updating the Coleman Theatre, the initial 1929 marquee maker and seating company created replicas of the original versions, and the Coleman family crest carpet made a comeback. Since then, two of the Coleman Theatre's main focal points have also returned; the 2,000-pound Czech crystal chandelier glimmers once again, and the "Mighty Wurlitzer" pipe organ continues to fill the theater with rich sounds.
"I consider this to be the jewel of Oklahoma," Jerold Graham said. "There are not many of these historic theaters left."
Although the Wurlizter had been sold in a period of tough financial times, volunteers were able to recover it from a collector. Thanks to the organ's restoration, the Coleman Theatre now lays claim to its status as the only Oklahoma theater to maintain its original pipe organ.
In the modern age, Coleman Theatre serves as the perfect place to see live ballets, operas, silent movies with Wurlitzer accompaniment, classic movies, orchestras and jazz bands, much like in its beginning years. Visitors can stop by the venue and take in live entertainment, holiday celebrations and building tours. An array of spooky spirits supposedly haunts Coleman Theatre, which guests can investigate during a seasonal ghost tour.
"Our mission is to provide great entertainment for an underserved community," Barbara Smith said. "That was George Coleman's mission."