Kings of Leon Itinerary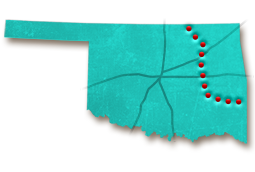 Photo Gallery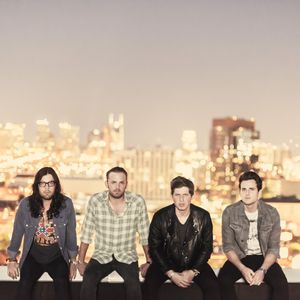 Discography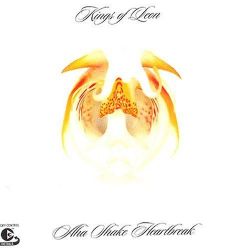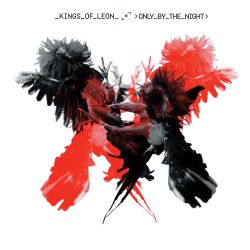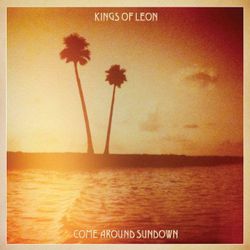 ---
{{ data.name }} Edition
---
Kings of Leon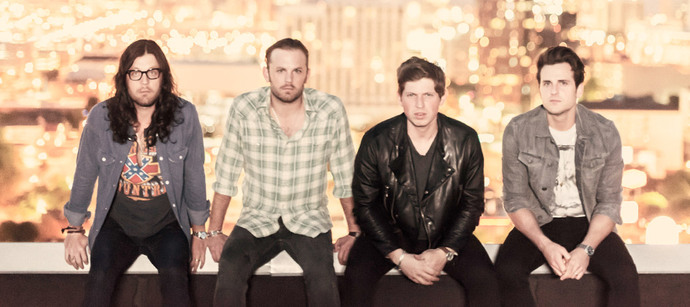 Formed: 2000
Kings of Leon, an American rock band with roots running deep in the Kiamichi Valley between the Kiamichi and Winding Stair Mountains of southeastern Oklahoma, made its music industry debut in 2003 with the album, Youth and Young Manhood, a collection of Southern boogie, Southern-infused garage rock and blues songs that earned the group comparisons to such bands as Lynyrd Skynyrd and The Strokes. The band would soon rack up hits around the world with "Use Somebody," "Sex on Fire," "Closer," "Supersoaker" and "Taper Jean Girl."
Kings of Leon consists of brothers Caleb Followill, Nathan Followill, Jared Followill and their cousin, Matthew Followill. Growing up, Caleb, Nathan and Jared often traveled throughout Oklahoma and the Deep South attending church and tent revival services with their father, United Pentecostal preacher Ivan Leon Followill. According to Rolling Stone magazine, Ivan sometimes enlisted the boys to "bang on some drums" at these services.
The Guardian described the band "as the kind of authentic, hairy rebels The Rolling Stones longed to be."
Alternating between home schooling by their mother and small parochial school attendance, a big part of the Followills' childhood was spent traveling the southern United States in a purple 1988 Oldsmobile, camping out along the way as their father fulfilled his preaching duties.
The boys' interest in music began early with their participation in church programs and quickly expanded into the realm of rock-and-roll when the boys started listening to the likes of Thin Lizzy, the Rolling Stones, The Clash, The Pixies and The Velvet Underground at the suggestion of songwriter Angelo Petraglia. Angelo, who Nathan and Caleb met when they moved to Nashville after their parents divorced, helped the boys hone their songwriting skills while they tried to break into the Nashville music industry.
Nathan and Caleb quickly roped in their brother Jared and cousin Matthew to round out the line-up, setting up shop in Nashville and living the rock and roll lifestyle while waiting for their big break. The boys banded together and formed under the name Kings of Leon, a name inspired by the grandfather of Caleb, Nathan and Jared. "Leon is our grandpa," Jared said. "He's a funny old man. He's hilarious. We all got our sense of humor from him. He's a quiet type. We all got the band name from him. He's just always been a big part of our lives."
By 2002, the band was receiving interest from a number of music labels. The boys chose RCA Records and released their first record, Holy Roller Novocaine EP, on February 18, 2003. The EP release garnered a lot of attention for the band, securing a 4/5 star rating from Rolling Stone magazine.
The band's first full album, Youth and Young Manhood, hit it big in the UK and Ireland where New Musical Express declared it "one of the best debut albums of the last 10 years" and The Guardian described the band "as the kind of authentic, hairy rebels The Rolling Stones longed to be."
Drummer Nathan Followill keeps a mini University of Oklahoma football helmet atop his drum set...as a reminder of his Oklahoma roots.
Aha Shake Heartbreak, the Kings' second album, built on the Southern-infused garage rock of their first album and broadened the band's domestic and international audience. "Taper Jean Girl," one of the album's singles, was used in the 2007 movie Disturbia and the 2008 movie Cloverfield.
Kings of Leon made a significant shift in sound with their third album, Because of the Times, released in 2007. In this collection, the group embraced elements of post-punk, making it their best-selling album to that point. "Sex on Fire," a single from Only by the Night, Kings of Leon's fourth album, garnered the band its first Grammy Award for Best Rock Vocal Performance by a Duo or Group.
Talihina Sky, an 87-minute film named after an early Kings of Leon track and directed by Stephen C. Mitchell, documents the Followills' links to Oklahoma and showcases their upbringing in Talihina as well as their Oklahoma-based family members. Talihina Sky premiered at the 2011 Tribeca Film Festival in New York, followed by a hometown premiere at the deadCENTER Film Festival in Oklahoma City on June 8, 2011.
For the 2013 Oklahoma-based film, August: Osage County, Kings of Leon recorded "Last Mile Home," their first-ever original song for a motion picture soundtrack. "We've been offered movies that they've spent $300 million to make," Jared said. "We've said no to it, just because we had no connection to the movie. We had a really strong connection to this one."
While the members of Kings of Leon often find themselves in places far distant from their home state, they return to Oklahoma not only to perform at such venues as the Paycom Arena in Oklahoma City and the BOK Center in Tulsa, but also to such places as Talihina and Norman to spend time with family and have fun.
The Followills are big-time Sooner football fans and they still tailgate in Norman on the University of Oklahoma campus as time permits. Drummer Nathan Followill keeps a mini University of Oklahoma football helmet atop his drum set during concerts as a reminder of his Oklahoma roots. The Followills have uncles and grandparents who make their homes in Oklahoma and they return to Talihina each year for a family reunion.